By Tasha Harrison
Owner/Event Director, Everlasting Events
If you're like most working adults, a day at the spa with someone you love is fabulous but hard to come by. We lead busy lives most of the time, likely not giving enough time to rest, relax and rejuvenate. Even if you make the time, a day at the spa for two people will set you back hundreds of dollars…. or so you thought.
When a pricey spa day is not in the cards consider planning a stay-at-home spa date night with all the pampering you both deserve. Here's a guide to creating a night of zen, without leaving the house.
Prepare for Tranquility
Creating a calming, relaxing environment takes a little preparation ahead of time.
Find a Comfy Room: It could be your living room, bedroom or lanai. Make sure it is private, picked up and free of clutter.
Choose Some Candles/Essential Oils: Grab some you already own or buy a couple candles in a scent that you love. Or bust out that oil diffuser and put in your favorite essential oil. I love mixing lavender with peppermint or cedarwood.
Dress the Part: Lay out a couple of plush robes and slippers or some loose fitting cotton clothes for both of you- something you'd be comfortable lounging in.
Play Relaxing Music: Put on the Spa station on Pandora or classical music. Whatever helps you drift away into a state of bliss.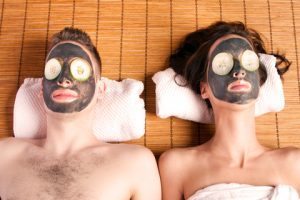 Spa Necessities
Face Mask: Choose one of these simple avocado face masks and purchase the necessary ingredients. You may even have all of these in your pantry! Your skin will thank you!
Foot Soak: Choose one of these 11 amazing foot soaks. Heat up some water (not too hot!) and pour both into a large basin or bowl. Sit back and let that stress melt away!
Massage: Get some coconut oil and use it to give your partner a great back or foot massage. If you want to splurge a little, add some essential oils to the coconut oil. Copaiba or Idaho Balsam Fir are both wonderful for massage. We particularly love this massage oil from Aveda with wintergreen essential oil for sore, tired muscles. If you are feeling extra splurgy, you can have two massage therapists come to your home via the Massage Clicks app and let them do all the work.
Bubble Bath: Break out your best bubble bath and top up two champagne glasses as you both soak up some relaxation in a nice, hot bath. Add bath bombs and bath salts, and line the tub with candles.
Quiet: Take some time to just BE with the one you love. Enjoy the solitude!
There. Now don't you feel amazing?? Sometimes taking just a few short hours to focus on each other, relax and rejuvenate is all we need to go out and tackle the world again. Stay tuned for more ideas in this Stay-at-Home Date Night series!

ABOUT THE AUTHOR
Tasha Harrison is the Co-Owner/Event Director at Everlasting Events, an Orlando-based event planning and design company specializing in weddings, corporate & social events. Follow Everlasting Events on Facebook/Instagram.